Thomas Preece arranges classical and folk music for ukulele and English ocarina solos and ensembles. His work is published under Creative Commons licences, and is available for pay-what-you-like download, and as beautiful printed editions.
Arrangements for Solo Ukulele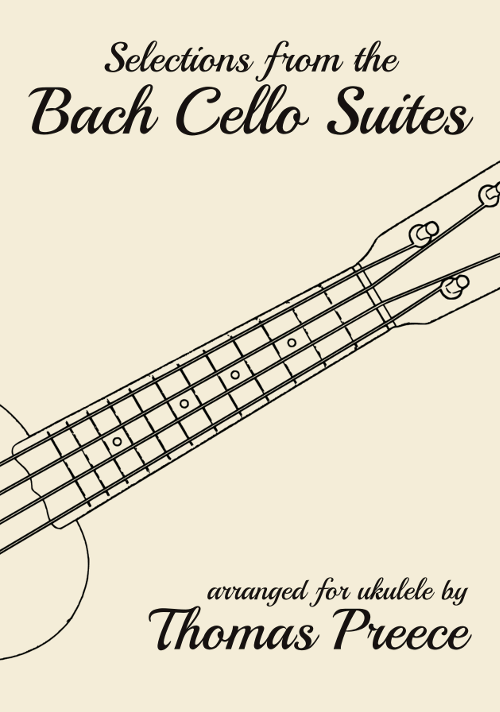 arranged for solo ukulele
J S Bach's Six Suites for Unaccompanied Cello are some of the most famous works for solo cello. They are studied and performed by cellists across the world, and have also been arranged for many other instruments, including the ukulele. While this collection is not the first ukulele arrangement of the suites, previous works have consisted only of one or two movements: this is the most complete arrangement to date, consisting of seventeen pieces from the renowned Cello Suites. Find out more, download and buy…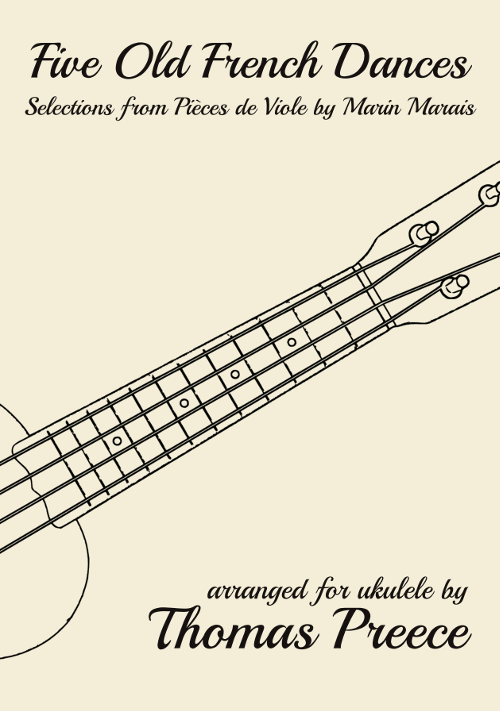 arranged for solo ukulele
Marin Marais (1656 - 1728) was a French composer and viol player at the royal court of Versailles. His most famous works are his five books of Pièces de Viole, from which these pieces are taken. The Five Old French Dances were first presented as a single edition in the early twentieth century, arranged for viola and piano. This ukulele edition is based on this arrangement, and is designed to be playable solo, or with the original piano part. Find out more, download and buy…
Arrangements for Ukulele Groups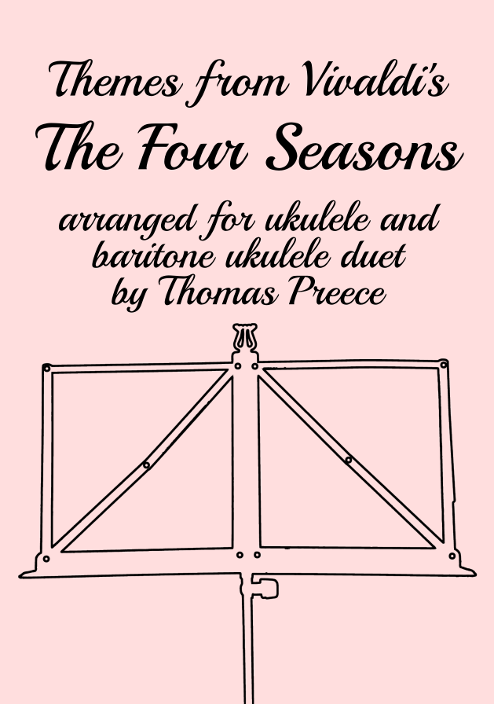 arranged for ukulele and baritone ukulele duet
The Four Seasons is a set of four violin concertos by Italian composer Antonio Vivaldi. Each concerto consists of three movements and - unusually for the time period - is each intended to represent a particular subject; the titular four seasons. Find out more, download and buy…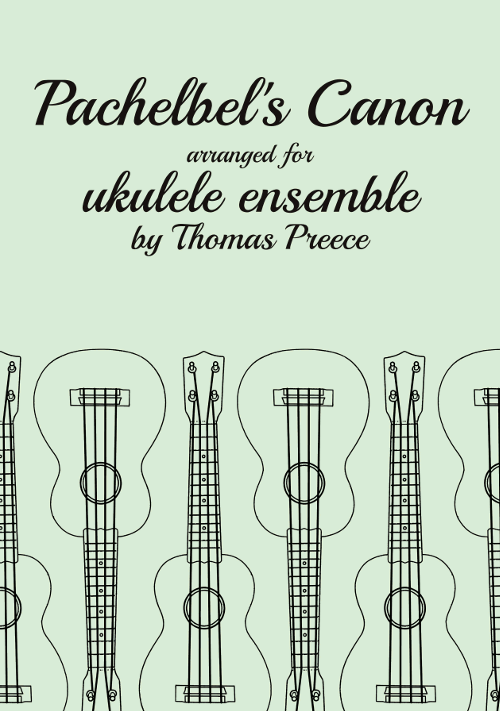 arranged for three ukuleles and bass
Johann Pachelbel's Canon in D is perhaps one of the world's most famous pieces of classical music. While most previous ukulele arrangements of the Canon have attempted to arrange all of the piece's parts onto one instrument, this arrangement takes the opposite approach, using three ukuleles for the three violins of the original, making the piece very easy to play, and keeping in with the concept of a canon as a piece in which multiple instruments play the same relatively simple part at different times, creating a more complex and interesting sound texture. Find out more, download and buy…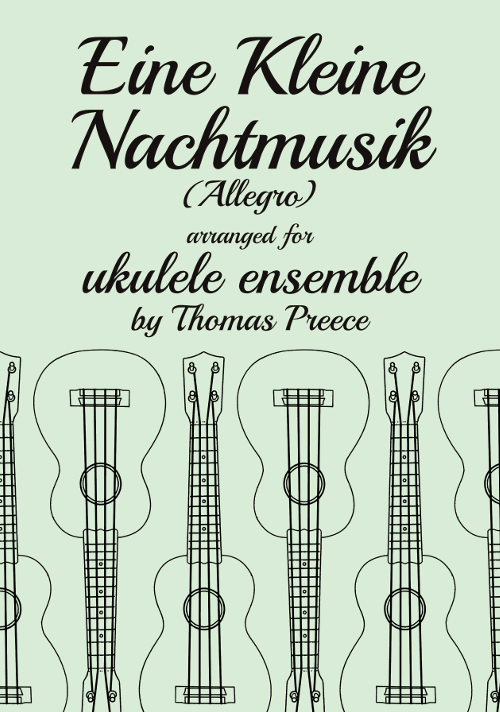 arranged for two ukuleles, baritone ukulele and bass
Mozart's Eine Kleine Nachtmusik is one of the most recognisable works of classical music. It was composed in 1787 for string quartet with optional double bass, although these days is most commonly performed by string orchestras. This arrangement brings the piece into the world of the ukulele to be performed, like the original, by a small ensemble. Find out more, download and buy…
arranged for ukulele and bass
Golliwogg's Cakewalk is the most famous movement from Claude Debussy's Children's Corner, a suite written not to be played by children, but to be evocative of childhood and traditional toys. A cakewalk, being the predecessor to ragtime, is a syncopated dance, traditionally danced as a competition in which the winner gets a cake. Find out more, download and buy…
arranged for ukulele and bass
Scott Joplin's The Entertainer is a classic piece of ragtime music from 1902. Possibly the best known rag, the piece was originally written for piano and has a catchy syncopated melody played over a steady bassline, making it ideal for the combination of ukulele and bass. Find out more, download and buy…
Arrangements for English Ocarina
arranged for English ocarina
This is the first in a new series of repertoire books for the English (or "pendant") ocarina. It aims to provide music for those who have moved beyond the initial learning stages, for concert performance and to show that the English ocarina is indeed a viable instrument - and not, as some have suggested, a mere toy. Find out more, download and buy…
arranged for English ocarina
Following on from Volume 1, this book aims to provide even more music for intermediate to advanced players of the English (or "pendant") ocarina. Just like the first volume, this is not a graded tutor book, but contains pieces of varying difficulty levels - although anyone who has successfully played the music in Volume 1 should have no difficulty with Volume 2. Find out more, download and buy…
Coming Soon
I'm always working on even more exciting arrangements for solo ukulele, ukulele and bass, and ocarina! For updates on my latest releases and ongoing projects, please like Preece Music on Facebook!
Mailing List
Enter your email address below to be kept up to date with all the latest Preece Music news and releases. I promise not to spam you, and you can unsubscribe at any time.
Contact
I'd love to hear what you think about my arrangements, or if you have any suggestions for new pieces that you'd like me to arrange. I also offer music arrangement as a service, with a special rate if you're happy for me to publish the music under a Creative Commons licence as a Preece Music publication, and consultation on how to self-publish music using Lilypond, Lulu and Amazon - for more details, or if you just want to say hi, please do get in touch!